node_title | node_title
node_body | node_body
Overview
The Janelia research environment consists of small teams grouped into Research Areas, Project Teams, and Support Teams. Collaboration across these groups allows Janelia scientists to tackle big conceptual and technological challenges in biomedical research, supported by administrative teams embedded in the Janelia research community.
Research Areas
Research Areas address important biomedical problems for which future progress requires technological innovation. Research areas can focus primarily on a biomedical problem, on technology development, or both. They will turn over with a cadence of 15 years. Currently, we have one research area in operation: Mechanistic Cognitive Neuroscience.
Mechanistic Cognitive Neuroscience
Understanding how the brain enables flexible behavior.
4D Cellular Physiology
Our goal will be to understand the function, structure, and modes of communication of cells in organs and tissues with an aim of expanding our understanding of cells and how they collectively give rise to the physiological functions of the body.
Core Research Areas
Molecular Tools and Imaging and Computation and Theory are ongoing areas of focus at Janelia.They don't turn over with regular cadence but adapt to new opportunities and needs within Janelia and the larger research community. These teams both collaborate with Research Area scientists and pursue independent research programs.
Molecular Tools and Imaging
Inventing novel reagents and technologies that push the boundaries of biological discovery.
Computation and Theory
Building quantitative understanding of biology and interpreting data at scale.
Teams
Project Teams
Project teams tackle problems or build tools that are unattainable by individual scientists or labs. These synergistic teams are purposefully flexible and responsive, and thus able to move quickly to meet new research needs and opportunities across multiple labs.
Support Teams
Our support teams partner with individual research labs to provide made-to-order tools, software, and access to state-of-the-art equipment and facilities.
janelia7_blocks-janelia7_block_right_hand_rail | block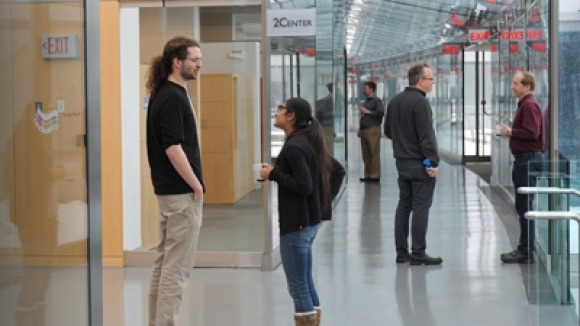 Janelians pursue biology's most challenging problems in a uniquely innovative and collaborative atmosphere and reflect HHMI's reputation for excellence. View our open positions »
We are accepting applications for Senior Group Leaders in Molecular Tools & Imaging and Computation & Theory. To learn more about the application materials and apply, go to our application portal.